Blue Sage's CEO Carmine Cacciavillani Receives HouseWire's Vanguard 2021 Award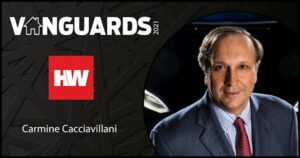 Carmine Cacciavillani is the brainchild behind Blue Sage Solutions, a fast-growing loan origination platform in the mortgage industry and the only platform built and launched in the cloud that supports any channel of business. Thanks to Cacciavillani, the number of loans originated through Blue Sage soared by 700% in 2020 as growing numbers of lenders, banks and credit unions have adopted digital mortgage processes — many of them doubling their underwriting efficiencies in the process. Five years after its launch, Blue Sage has been so successful that Goldman Sachs Growth Equity has invested in the company to ensure Cacciavillani's creation continues to evolve into the new gold standard for loan production in the mortgage industry.
When launching the Blue Sage Digital Lending Platform five years ago, Cacciavillani turned heads. Not just because the market for loan origination systems was dominated by a handful of entrenched players, but also because there was nothing else like it. Considering that the mortgage industry has struggled for years to successfully adopt and implement digital mortgage processes, Cacciavillani's decision to launch Blue Sage was a daring move that has certainly paid off.
Today, Cacciavillani's dream of empowering lenders to originate digital mortgages from the ground up has become reality. Over the past year, Blue Sage has experienced a 66% growth in clients with over 40,000 individual users. Cacciavillani continues to build out the Blue Sage platform and enhance its speed, flexibility, and value by developing integrations with companies such as FormFree, Corelogic, ClosingCorp, Optimal Blue, ComplianceEase and many other third-party service providers.
What has been the secret to your success?
"The reason for our success is our employees. We have a core group of folks who have been working together for over 30 years and who have in-depth knowledge of the mortgage business and can use their technical acumen to continuously bring new innovations to the forefront.
---